Your Tax Refund Can Put You Closer To Your Real Estate Goals
When considering buying or selling a home, one of the first actions you take might be putting money away for expenses. If you will be buying, the top expenses for you will be a down payment and your closing costs. If you will be selling, you will more than likely consider making some minor updates, general cleaning and maintenance items that you've been meaning to address, before taking the step of putting your home on the market for sale.
In either scenario, any tax refund you receive after filing your taxes can be put to work for you. Using this money is fairly common for  buyers and sellers. SmartAsset estimates that on average, most folks can look forward to a $2,897 tax refund this year. The illustration below provides a more detailed estimate by state: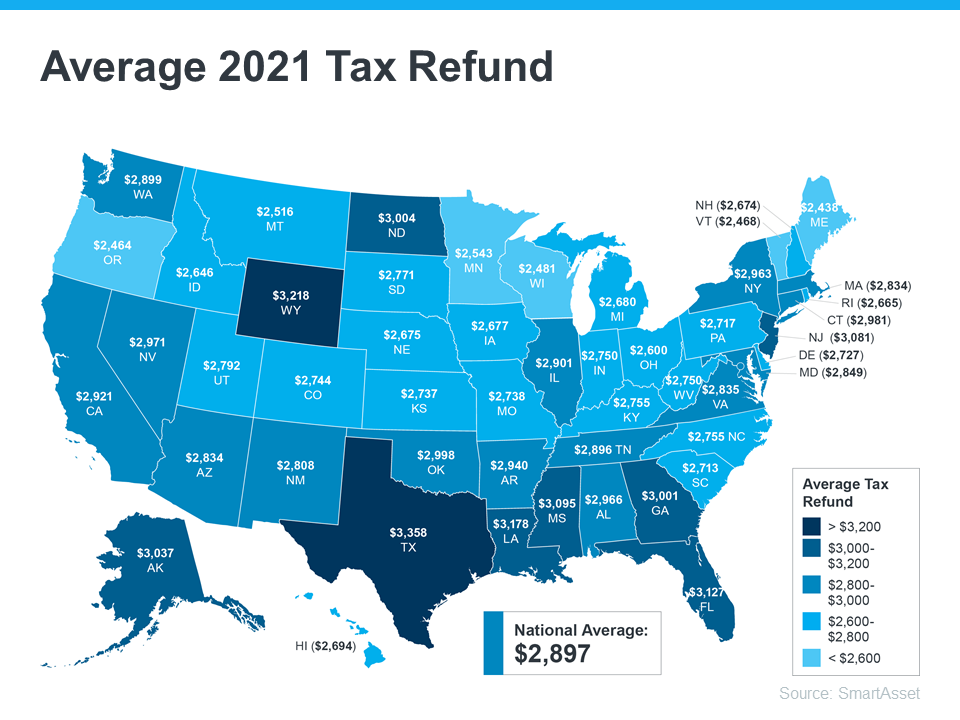 What you should consider doing with your tax refund to help you with your purchase of a home:
How Buyers Can Put Their Tax Refund To Good Use
According to American Financing, there are several ways your tax refund can be put to good use if you are a homebuyer. A few include:
Growing your down payment fund – If you are just beginning to save for your down payment, your tax refund can begin your initial deposit into your savings fund. And if you have already begun saving for your down payment, your tax refund can increase the savings putting you a step closer to reaching your down payment amount. 
Paying for your home inspection – Your home inspection is one of the tools you have as a purchaser to assess the condition of the property before you close. This is an important task to complete before you purchase the property to avoid any unforeseen problems later on.
Saving for closing costs – Closing costs are additional fees you'll be charged at closing time. They average anywhere between 2-5% of the purchase price of your home depending on where you live.
This list is a great start, but it isn't exhaustive of all the costs you may encounter as you set out on your homebuying journey. The best way to prepare is to work with a trusted real estate professional to make sure you understand what's to come in the process.
How Sellers Can Put Their Tax Refund To Good Use
If you own are considering selling your home, your tax refund is a newly found money to help you get your home in top shape before listing it for sale. Below are just a few ways homeowners can use their tax refund:
Minor upgrades – NerdWallet provides you with a list of great ways to put your tax money to good use, particularly small improvements or ways to make your home appeal to prospective buyers.
Repairs – All those repairs you've been meaning to do..?  American Financing advises that finally tackling these repairs is another great use of that money.
Purchasing your next home – If your plans are to downsize or upscale to a new neighborhood, your tax refund can assist you with closing costs you will encounter with your new purchase. 
Bottom Line
Funding your home purchase or sale can seem intimidating, however, it doesn't need to be. Your tax refund can put you one step closer to reaching your real estate goals. Call or text us to discuss how you can start on your journey.