A newly released study by ATTOM Data Solutions reveals homes sold in the month of May, netted home sellers an average of 5.9% above The estimated market value.
a Nationwide "analysis of 14.7 million home sales from 2011 to 2017" was conducted by ATTOM for this study. The chart below shows the Results the average seller premium achieved for each month of the year: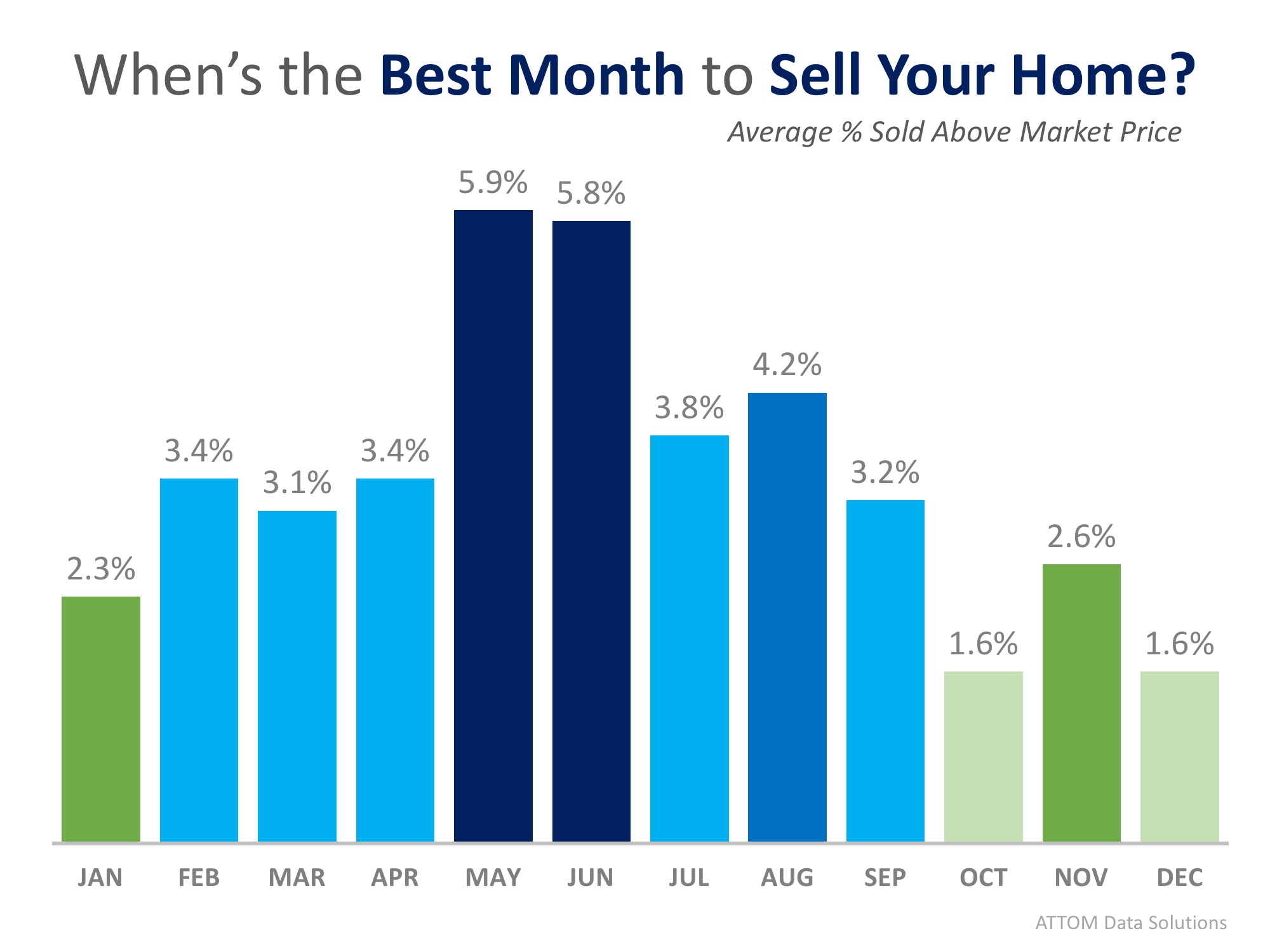 ATTOM even went a step further and broke their results down by day.
Top 5 Days to Sell:
June 28th – 9.1% above market
February 15th – 9.0% above market
May 31st – 8.3% above market
May 29th – 8.2% above market
June 21st – 8.1% above market
It's not shocking to learn that May and June are the top months to sell, and 4 out of the top 5 days to sell, are during these two months.
The Spring Home Buying Season, (April, May, June) is usually when competition is intense to find a dream home, which often leads to multiple offers & bidding wars.
One caution to note, is that when broken down by metro, ATTOM noticed that while warmer climates share in the overall trend, it turns out that they have different top months for sales. The best month to get the highest price for a home For Sale in Fort Lauderdale / Miami, for instance, was January. The best time to sell in Phoenix, AZ however, was November.
If you are considering selling your home this year, the time to list on the market is NOW! According to the National Association of Realtors, Closed Sales sold on an average of just 30 days last month!
The median Days on market for Fort Lauderdale Homes this year is 41. The Median Days on Market For Fort Lauderdale Condos for sale is 68
If you list now, you'll have a really good chance to sell in May or June, setting yourself up for getting the best price!
Bottom Line
Contact me today to discuss the market conditions in our area and get you the most exposure to the buyers who are ready and willing to buy!
Fort Lauderdale Neighborhoods
Disclaimer:The information contained, and the opinions expressed, in this article are not intended to be construed as investment advice. John Sabia PA and Keeping Current Matters, Inc. does not guarantee or warrant the accuracy or completeness of the information or opinions contained herein. Nothing herein should be construed as investment advice. You should always conduct your own research and due diligence and obtain professional advice before making any investment decision. John Sabia PA and Keeping Current Matters, Inc. will not be liable for any loss or damage caused by your reliance on the information or opinions contained herein.